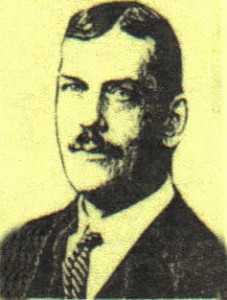 After a long and fruitful life, the sturdy, trunk on our family tree has withered and died. Life for the immediate family from now on will never be the same. Though time will temper our sorrow and eventually dim the memories of the full life we enjoyed with him, it will never erase permanently some of the outstanding characteristics of Pa Lindskoog. Pa is the only name we knew him by. All we have left of him now is memories. Memories of what a great man he was. To us he was the greatest. He was great as a family man. His family  always came first with him. His great love for us and his unselfish devotion to doing the best he could for us at all times is something time will never erase from our memories.
He was a smart man. Though he only had a meager education he had a brain that could think things out and see things that were going to happen. With a good education he could have bean a great writer. But he was content and satisfied to be with his family and live the simple way of life.
He was a generous man, too generous to accumulate anything for himself. Money and worldly goods meant little to him. To anyone in need he would give his last nickel.
He was a kindly man. He would never knowingly harm any living thing. He was a cheerful man. While he had his discouraging moods when he was sick, when he was well he was always the life of any get together.
He was a friendly man. He made friends easily. To know him was to like him. I don't know that he ever had an enemy. He not only knew the Golden Rule, he lived it and practiced it in all his associations with other people.
Yes we have many pleasant memories of Pa. But all things,good or bad, come to an end sometime, We have been very lucky and fortunate. Our family tree has been blooming and healthy for a long time. From time to time new
buds appear on the limbs and grow into sturdy branches. Even while the old trunk lay dying last week, a new bud appeared just a week ago today in time to add one more Great Grandson to Pa. The young branches grow
stronger every day until they reach their prime and then they start to wither away. Someday they will all die.
Though our loss today is grievous, we should not be too sad. It is far better for Pa to be dead than to be a helpless invalid. All his life he wanted to do his share and if he could not do so, he was dissatisfied. We who were so used to his full vitality and activity were dissatisfied to see him helpless. It is far better this way. Someday we must all go. In the not to distant future we will all join him and whether it comes a year from now or 50 years from now, it will seem like a short time when it does come. Time passes swiftly.
Some might say Pa was not a religious man in that he did not belong to any church. While we seldom talked religion with him, I know he believed in the Almighty God. He believed in the Golden Rule and said his heart was his church and religion. In II Corinthians Cap. 2, Ver. 10, we read: "For we must all appear before the judgment seat of Christ, that everyone may receive the things in body, according to that he hath done, good or bad."
I think we can safely say that Pa Lindskoog has never done anything but good in his life, and if the Good Lord is to have a resurrection and judge us we can be sure that he will be there.
Eulogy written by Art Lindskoog