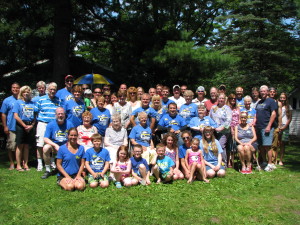 1st Row: Julie Murray, Braden Mallasch, Megan Murray, Colin Murray, Jack Miller, Emily Murray, Amanda Mallasch, Grace Miller, Molly Montgomery
2nd Row: Dave Greenfield, Jan Porrey, Lois Tomaras, Joyce Petersen, Mike Hodge, Evie Brown, Jodie Montgomery, Marilyn Wiggerman
3rd Row: Ken Porrey, Mary Porrey, Gloria Mallasch, Loretta Miller, Tedd Mallasch, Kelly Hodge, Carol Beckland, Jay Richards, Dorene Wiggerman, Patricia Lindskoog, Ron Wiggerman
4th Row: Lisa Mallasch, Doug Porrey, Justin Kaminski, Bill Kaminski, Sharon Miller, Julie Miller, Kim Kaminski, Jerry Petersen, Jed Bruer, John Porrey, Andrew Porrey, Roger Lindskoog, Kirk Wiggerman, Austin Wiggerman
5th Row: Todd Mallasch, Ted Mallasch, Bob Miller, Mark Pechnick, Vince Murray, Kirsten Greenfield, Erik Pecknick, Bobby Miller, Adam Porrey, Kiley Stevensen
The 67th Annual Lindskoog Family Reunion was held June 27, 2015 at the Miner Lake cottage hosted by the Mallasch Family. 56 family members were able to enjoy a fun filled beautiful day on the water. Activities included name bingo, robber bingo, the dollar raffle, water volleyball, the egg toss, the water balloon toss, and plenty of swimming. Dorene and Kirk Wiggerman won BBQ cutlery in name bingo. Plenty of relatives were winners of white elephant prizes in robber bingo, with the pecking chickens being the most coveted prize. Ted Mallasch won $55 in the dollar raffle, as a result of somebody stuffing the box with Ted M's. Many eggs wouldn't break, so there was a multi person tie for the best egg tossers. Braden and Todd Mallasch were the best water balloon tossers. Amanda Mallasch did a great job running the kids games, where everybody gets a prize and everyone is a winner!
All of the food and drink was provided by the Mallasch kids in honor of their parents, Ted & Gloria's upcoming 60th Wedding Anniversary. The menu featured fried chicken, potato salad, German potato salad, beans with bacon, BBQ meatballs, rolls, hotdogs for the kids, fake BBQ for the vedge heads, hardtack, herring, pickles, grape salad, watermelon, and some fancy Jello. Chocolate cake, with whipped cream frosting, stuffed with custard was made up special by Piggly Wiggly for the happy couple's big day. In addition there were homemade lemon squares courtesy of Lisa Mallasch, along with fudge brownies. There was also plenty of beer, lemonade, and pop on hand to keep everyone refreshed.
Last year's minutes were read. It was announced that nobody died since the last reunion and there were four births; Isabella Marie Lindqvist 12/15/14 to parents Mats and Jane, Ariel Haywood 3/11/15 to parents Ellie and Andrew, Gloria Katherine Greenfield 3/24/15 to parents Karl and Jaime, and Margaret Evelyn Guziec 4/26/15 to parents Doug and Maureen. It was noted that Marlene Goodman was missing this year's Reunion and she was the last family member to attend every Family Reunion. Evie Brown, 89, and Dylan Kaminski, 7 months old, were the oldest and youngest family members in attendance. Marilyn and Ron Wiggerman traveled the farthest coming all the way from Mesa, Arizona.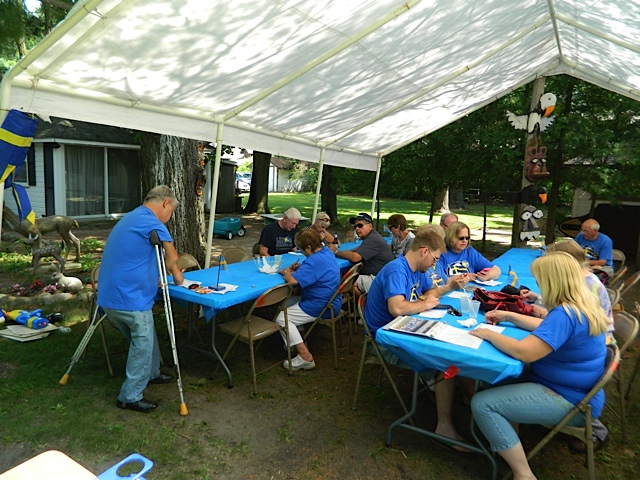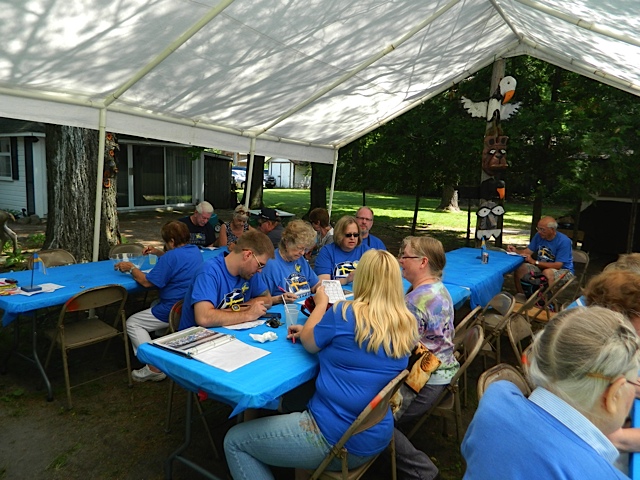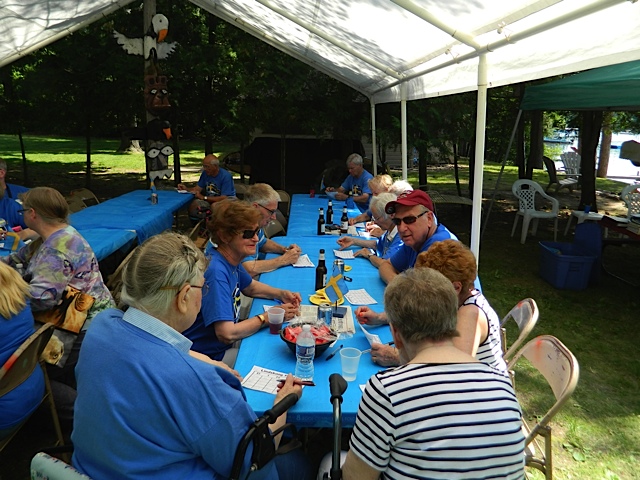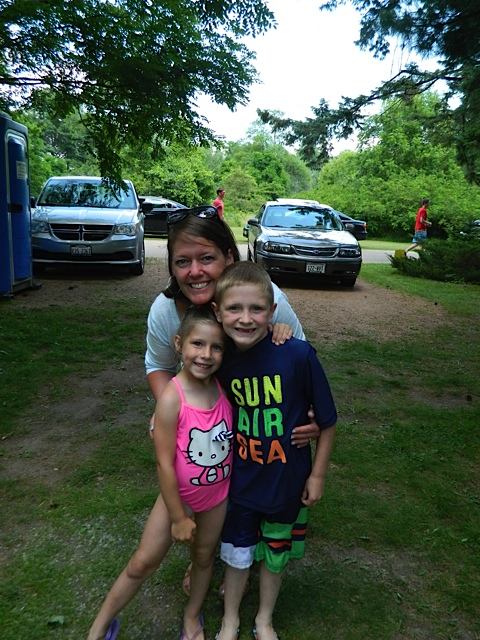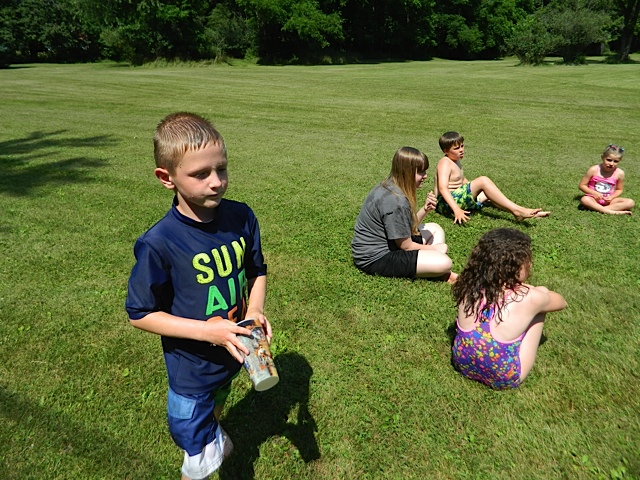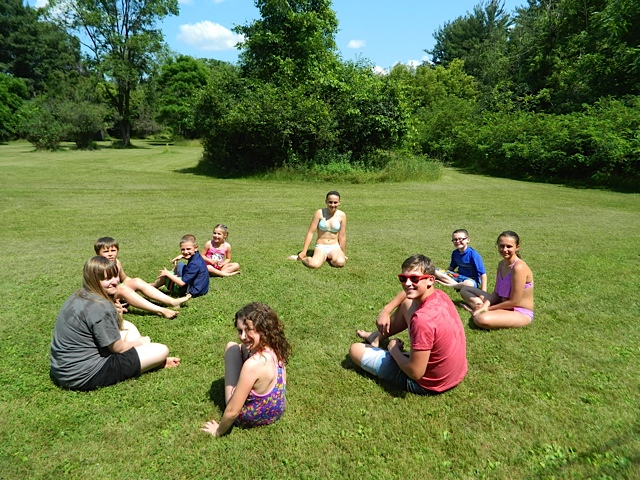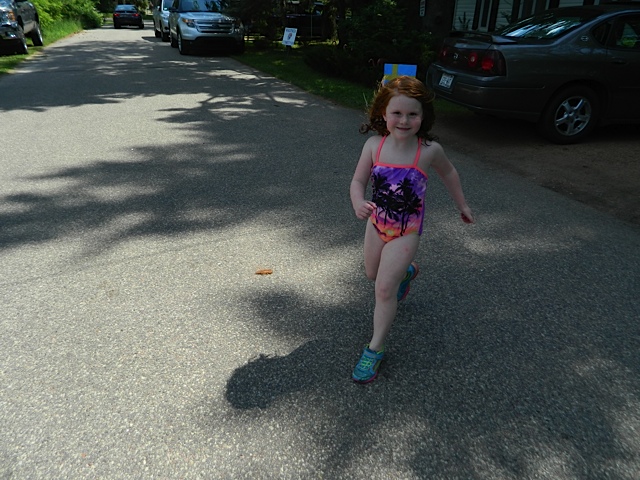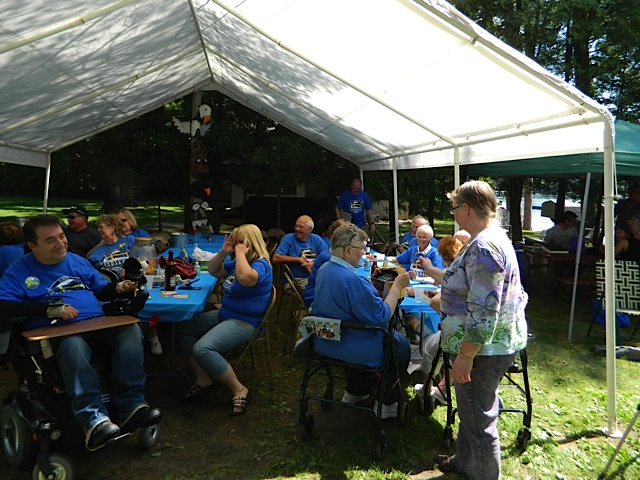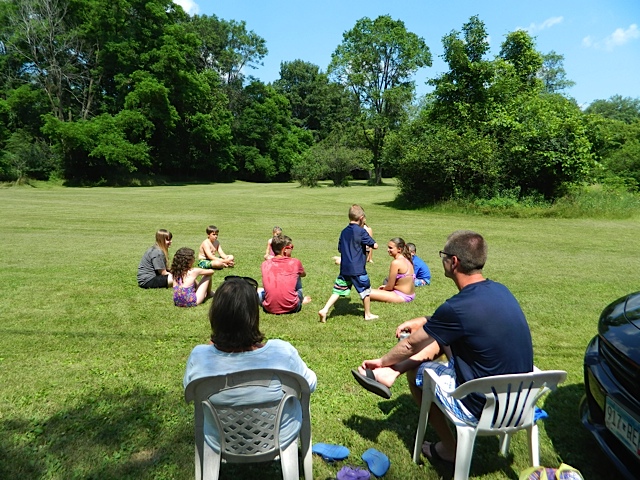 Next year's Lindskoog Family Reunion will be hosted by the Steven Lindskoog Family in the Chicago area on June 25th. Mark your calendars!