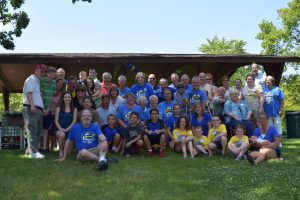 The 68th Annual Lindskoog Family Reunion was held in the Chicagoland Area on Saturday June 25th, hosted by the Steven Lindskoog Family and Patricia & Roger Lindskoog. There were 39 adults & ten children in attendance on a sunny and very hot day! Brats, fried chicken, and beverages were provided for the nominal fee of $7.00 per adult. In addition, scrumptious salads & delicious desserts were brought in by various family members.
Joyce Petersen won the jar of M&Ms for coming closest to guessing the number in the jar. Jerry Petersen & Maggie Guziec split $94 in the dollar raffle. Joyce Petersen & Steven Lindskoog won the egg toss. Todd & Amanda Mallasch traveled the longest distance, all the way from Waupaca, beating out David & Kirsten Greenfield by a few miles. Marlene Goodman at 83 was the oldest family member in attendance & Katie Murray at three weeks was the youngest.
We had no deaths in the family since the last reunion. Bowen Bruer was born on August 9, 2015 to parents Jed Bruer and Jenna Koch, Samantha Steiger was born November 7, 2015 to parents Brianna Sotelo & Siege Steiger, Ramon Luis Santiago III was born March 12, 2016 to parents Sharon & Ramon Santiago, Henry Swernfeldt was born April 17, 2016 to parents Fredrik & Sofia Swernfeldt, Liam Winter was born April 19, 2016 to parents Amanda & Josh Winter, and Katie Murray was born May 31, 2016 to parents Julie & Vince Murray.
Thanks to everyone for all their hard work in making the 68th Annual Lindskoog Reunion a success with plenty of food & family fun in the sun! If you weren't there, you missed out & were missed. Mark your calendars & schedule your time off for the 2017 Reunion, which will be in the Waupaca area on Saturday June 24th, hosted by Mary Jo & Barry Tomaras. Be there or be square!