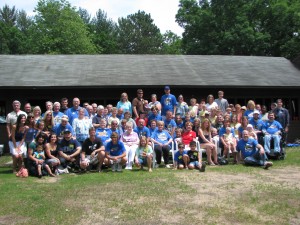 Back row (L-R): Matt, Dru Brown, Kyle, Barry Tomaras, Ken Porrey, Melonie Brown, Ted Mallasch, Kirsten Greenfield, Eric Greenfield, Lucille Greenfield, Kate Greenfield, Karl Greenfield, Jamie Greenfield, Vince Murray, Bob Miller, Sharon Miller, Erik Miller.
3rd row (L-R): Joe, Tammy Beckland, Ron Wiggerman, Jim Montgomery, Bill Mielke, Laurie Mielke, Carol Beckland, Jerry Petersen, Jessica Montgomery, Melissa Mielke, Jordan Mielke, Tedd Mallasch, Amanda Mallasch, Braden Mallasch, Emily Murray, Colin Murray, Jack Miller, Arthur Nicolas, Sadie Nicolas, Mark Pechnick, Amelia Nicolas, Nathan Kaminski, Kevin Kaminski, Brittany Kaminski, Kim Kaminski, Tara Pechnick, Kelly Hodge, Bill Kaminski, Ashanti Monts, Ginger Walkowich, Ami Brown.
2nd row (L-R): Lauren, Dorene Wiggerman, Lane Lindeman, Dawn Lindeman, Marilyn Wiggerman, Jodie Montgomery, Evie Brown, Bob Miller, Loretta Miller, Lois Tomaras, Lance Goodman, Andrea Newman, Marlene Goodman, Gloria Mallasch, Jan Porrey, Lisa Mallasch, Devyn Pechnick, Joyce Petersen, Jed Bruer, Julie Miller, Grace Miller, Michal LaFave, Julie Murray, Megan Murray, Gavin LaFave, Mike Hodge.
Front row (L-R): Liz Manley, Dominic Sotelo, Brianna Sotelo, Nic Sotelo, Kirk Wiggerman, Austin Wiggerman, Molly Montgomery, Gunnar Lindeman, Kaden Sotelo, David Greenfield.
The 62nd Lindskoog Family Reunion was held at South Park, Waupaca, Wisconsin, on Saturday June 25th, hosted by the Evie Brown & Carol Beckland families.  The weather was absolutely perfect, after many days of rain.
There were 89 people (70 adults & 19 kids) in attendance.  The oldest being Evie Brown (85 years old) and the youngest being Lucille Greenfield (5 months).  Dawn, Lane, & Gunnar Lindeman traveled the farthest, coming all the way from Rancho Santa Margarita, California.  The big Wiggs (Marilyn & Ron) came from Mesa, Arizona.  Liz Manley & the Sotelos (it was great to see Nic looking so good) came from Michigan.  Traveling from Colorado were Ami Brown, Ashanti, & Ginger while all others came from either Wisconsin or Illinois.  Eva Miller, who would've been 100 on the 12th of June & Harry Goodman passed on since the last Reunion and were missed.  Newborns in this past year were Wren Violet daughter of Ryan & Jen Richards, Lucille Anne daughter of Erik & Kate Richards, Eva Antonia daughter of Wes & Natalia Henricksen, Allie Belle daughter of Ross & Alicia Brown, and twin sons Cooper Jack & Dawson Rylee were born to Jeff & Kati Wiggerman.
Interestingly, for the first time ever, there was not a family member with the last name Lindskoog at the Reunion.
As is tradition, the family picture was taken by resident family photographer, David Greenfield, and remember, "If you can't see the camera, the camera can't see you".
There were many treasures to be had at the Lindskoog White Elephant table, where a silent auction helped hold down the cost of the reunion to $5.00 per adult.  That bargain price included delicious food (hot beef sandwiches, potato salad, cole slaw, baked beans, cheese & hardtack, homemade pickles, & nachos), scrumptious desserts, along with various flavored drinks, coffee, & water.  The food was homemade and it was very tasty, all of the hard work was very much appreciated.  Bill Mielke said grace before the meal was eaten.
The kids had a blast, & won prizes, playing team relay fill-the-bucket-with-sand, and bowling down water bottles.  Everyone joined in in singing the National Anthem and then it was time for the horse races.  The horse races featured jockeys of all ages, who moved their plastic mounts according to dice rolls, and everyone bet on their favorites.  Kirk Wiggerman was a two time winning jockey, while Dru Brown was the luckiest gambler, winning 20 chips.  Nathan Kaminski won the dollar bill raffle.
Thanks to everyone for all your hard work, a good time was had by all.  The Eva Miller family will host the 63rd Lindskoog Family Reunion on Saturday June 23rd in the Chicago area, be there or be square.