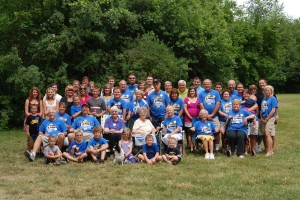 Back row (L-R): Mark Lindskoog, Steven Lindskoog, Chris Centnarowicz, Brandon Cipolla, Sharon Pechnick, Erik Pechnick, Jerry Petersen, Gavin LaFave, Michal LaFave, Jed Bruer, Bob Miller, Gary Guziec, Doug Guziec, Jack Gere, Don Diersen, Todd Mallasch, Loretta Miller, Bob Miller
3rd row (L-R): Devyn Pechnick, Melissa Cipolla, Eleanor Lindskoog, Pam Cipolla, Mark Pechnick, Tedd Mallasch, Gloria Mallasch, Ted Mallasch, Marla Guziec, Maureen Guziec, Lance Goodman, Andrea Newman, Julie Miller, Grace Miller, Lisa Mallasch
2nd row (L-R): Colton Centnarowicz, Roger Lindskoog, Kristi Centnarowicz, Jon Diersen, Shirley Diersen, Carol Beckland, Joyce Petersen, Patricia Lindskoog, Marlene Goodman
Front row (L-R): Brett Centnarowicz, Joshua Diersen, Nick Gere, Linnea Diersen, Braden Mallasch, Jack Miller
The 63rd Lindskoog Family Reunion was held at Half Day Forest Preserve, Vernon Hills, Illinois on Saturday June 23rd, hosted by the Bob & Loretta Miller, Joyce & Jerry Petersen, and Roger & Patricia Lindskoog families.  Perfect weather was the order of the day.
There were 50 people (35 adults & 15 kids) in attendance.  The oldest being Marlene Goodman, who'll be 80 in October and the youngest was Grace Miller, who is two years old.  Jed Bruer traveled the farthest, coming from Wausau, Wisconsin.  There was only one newborn since the last Reunion, Lincoln Winter, born June 26, 2011, son of Amanda & Josh Winter.
Newly wedded couples were Tabitha (Mielke) & Nicholas Fortier, Jordan & Samantha Mielke, Autumn (Brown) & Brandin Padilla, Jonathan & Cindy Todd, Ellie (Cecil) & Andrew Haywood, and Doug & Maureen Guziec.
It was Ted Mallasch's birthday, so he provided beer, there was a birthday cake, and Happy Birthday was sung by all, like it has never been sung before.
Family photographer, David Greenfield was not present, so Roger Lindskoog filled in admirably.
Delicious food was served, which consisted of chicken, submarine sandwiches, bean salad, potato salad, cabbage salad, herring, Swedish Flop Cake, cookies, & cake slices.  Everyone got plenty to eat!  Remarkably each adult was charged only $5.00.
The kids had a blast playing all kinds of fun games.  The water balloon toss was won by Devyn Pechnick & Melissa Cipolla.  The egg toss was won by Erik & Mark Pechnick.  The dollar raffle was won Kristi Centnarowicz.  Left, Center, Right, Dice game was won by Loretta Miller & Gloria Mallasch.
A BIG thanks to the hosts!  It was an excellent reunion!  2013 Lindskoog Family Reunion will be in Waupaca, Wisconsin, hosted by the David & Kirsten Greenfield Family, on Saturday June 22nd.  As usual, be there or be square!